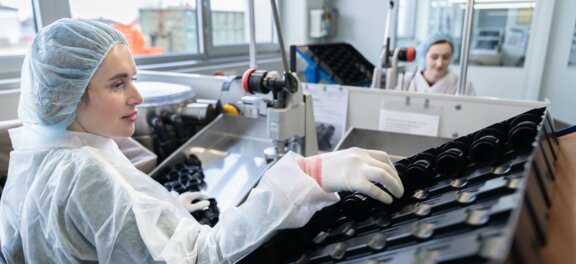 ASSEMBLY AND FINISHING
Comprehensive service from your injection moulding specialist
Professional assembly and finishing of plastic parts
We offer you first-class service around
Parts printing (pad + inkjet)
Conditioning
Component assembly
Further processing of parts
We offer innovative solutions for individual printing on parts, e.g. with your logo or special numbers. We use two different processes, pad printing and inkjet printing.
ideal for uneven print areas
Pad printing
With pad printing, ink is printed onto the plastic injection moulding using a silicone pad.
Advantages of the process are:
Almost every plastic part can be printed with suitable and different colours.
In pad printing, the finest lines and filigree motifs can be reproduced.
Pad printing can be realised for all quantities.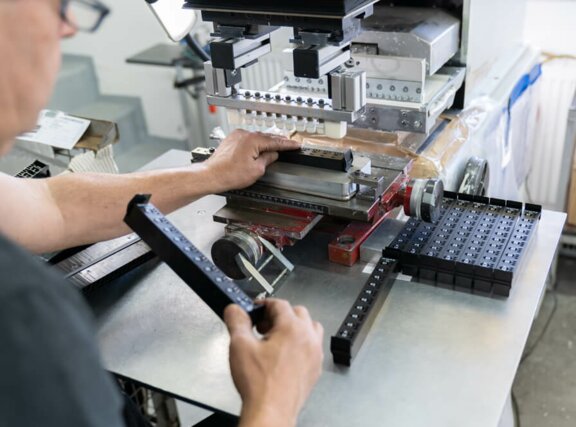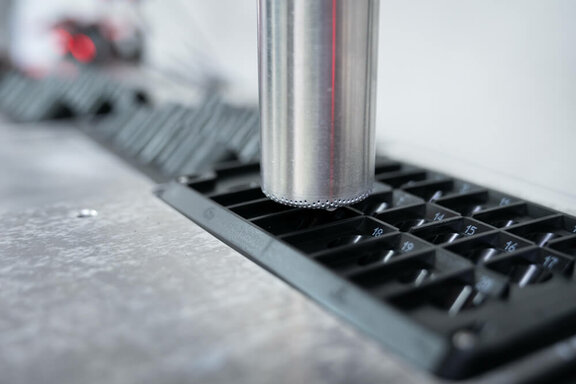 Inkjet process
Our inkjet printers are particularly efficient and have innovative features. They are a cost-effective solution for immediate, contact-free and high-quality printing of plastic parts. The inkjet process works in a similar way to an inkjet printer and can take place, for example, directly after the part has been removed from the injection moulding machine (inline).
Conditioning of injection moulded parts
Some thermoplastics require special post-treatment before they reach their final dimensional property level. This is done by means of a controlled water absorption in a water bath - also called conditioning process.
The conditioning process
The injection moulded parts are placed in a water bath under predefined conditions (temperature, time) and thus absorb moisture.
The best-known plastic in this area is probably polyamide (PA). Depending on the type, PA sometimes absorbs considerable amounts of water and changes its properties in the process. In order to achieve a controlled water absorption and thus bring the plastic to its properties in a targeted manner, the conditioning process is initiated.
Professional component assembly
Often, the individual injection moulded parts are not an end product, but entire component groups have to be manufactured. These component groups, such as camera or sensor housings, can be very complex. By means of special devices and extra individually manufactured assembly stations, we are able to manufacture entire component groups flexibly and according to your specific requirements. We work quickly and precisely, and through constant quality controls we ensure results at the highest level.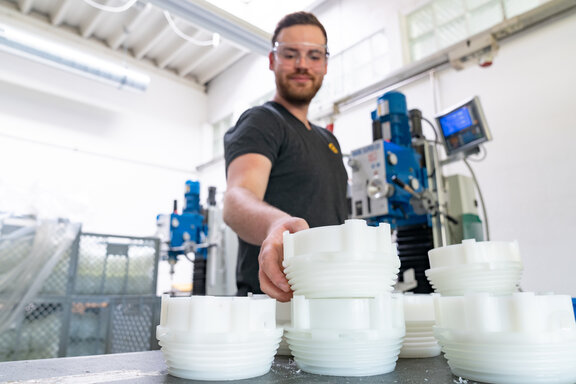 Further processing of parts - reliable & economical
We also offer reliable and economical solutions for the further processing of plastic parts.
During further processing, for example, accessories can be subsequently mounted, parts can be cut to size or recessed. For example, plastic parts can be additionally reworked on our CNC lathes. Our modern machinery, our qualified employees and our strict quality guidelines ensure the best quality results, both for standard solutions and for highly complex project requirements.
Rely on our experienced team of experts
KABO-PLASTIC: Your expert for 2-component injection moulding
Call us or send us a message if you are interested in our offer to manufacture components or workpieces by 2-component injection moulding. If you still need information or would like detailed advice, our qualified employees are here for you. We will answer your enquiries in detail and competently. Because we want you to find the best way to have your plastic parts produced.
Feel free to get in touch with one of our experts. We look forward to being able to help you.
Contact